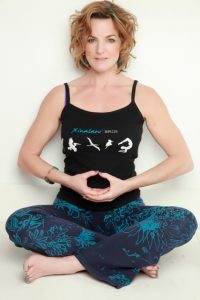 Her inspiration comes from the Astanga Vinyasa tradition and other Hatha yoga practises. Liz adapts yoga postures for each individual in order to 'chisel' into the form and helps sculpt and free each unique body.
Liz's passion for Yoga developed in 1990, studying as a teacher with the British Wheel of Yoga (1992), and exploring Astanga Vinyasa Yoga, a dynamic, dance-like style which led her to India and Crete through the 1990's. The Life Centre Notting Hill became an anchor for teaching in 1995 and in early 2000 she joined Sangam, an Astanga Shala (Battersea) with Gingi Lee.
Since 1998 she has written 8 books (see '1001 Pearls of Yoga Wisdom' Watkins), her own self publications and most recently the Sequencing Chapter in 'Yoga Teachers Manual' (Jessica Kingsley 2018). Liz brings together Nature, Travel & Art with her inner travels to share Yoga through creative sequencing, somatic practises, visualisation, meditation & relaxations.
Details of the classes available are in the list below, check the type of class and the date are suitable before you book.
Single classes cost £15, to book simply click on the relevant Sign Up button below,  and pay directly with your card. You can also create an account and buy a subscription covering classes of your choice, this is significantly cheaper at £100 for 10 classes.
The accounts and class bookings are managed by our online partner Withribbon, and the Zoom sessions will be scheduled by them. They also process all payments, whether for individual sessions or subscriptions. In both cases they will email you the details for joining the sessions, these are sent out an hour beforehand.
Use your Withribbon account to click on a class and pay for it with your subscription, and you can also join the class from your account.